Energizing the Base - Scott and Melissa Parsinen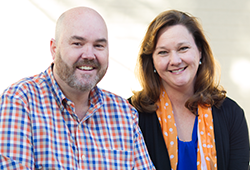 Scott Parsinen ('94) has never been accused of being lethargic.
His passion and his commitment for doing things well and inspiring others to do the same is a catalyst to his success. Founder and owner of Cadmus Dental, a trusted network of health care professionals that provide advice and direction for locally-owned dental practices, Scott pours himself into promoting The University of Texas at Arlington as a world-class campus and into advocating UTA students as some of the very best.
He and his wife, Melissa, have created a scholarship to instill a sense of pride in future generations of Mavericks. In addition to this current gift, Scott and Melissa have made a deferred gift to their scholarship by naming UTA one of the beneficiaries of his life insurance.
"Our hope is that students who receive this scholarship," Melissa and Scott say, "will always continue to pursue excellence in all they do and develop a spirit of giving back in their lives."
They hope the cycle of volunteering and philanthropy doesn't stop there.
The couple adds, "Many positive things happen when the alumni base gives back. The community is enriched by taking advantage of the diverse offerings of athletic events, arts and educational programs, and impactful guest speakers and performances the University provides."
As a business owner, Scott understands the symbiotic relationship between UTA and the community and wants to leverage that synergy. Supporting the University's countless programs and talented students is paramount to the region's quality of life and economic vitality.
"Our overall goal is always giving back and doing what is best for the community," Melissa and Scott say. "Community businesses should set the example and encourage support of their local university as a place where future generations can further their education and advance their careers."
Beyond the utility of promoting UTA, Scott is convinced that once alumni see the new buildings and interact with the new student population, they will feel a sense of pride and want to get involved. If there is a note of encouragement Scott could give to his fellow Mavericks, it's simple - come to campus and experience the energy.
"You should come back to see how UTA has grown and enjoy it, knowing that you were there from the early days. Returning to campus will inspire you to help promote UTA and want to give back."
Tapping into his passion for his alma mater, Scott Parsinen is the spark plug that just might create a flame of enthusiasm for UTA.