A Long-Term Marriage - Greg Lozier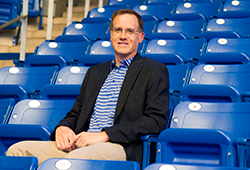 Greg Lozier has prepared for the future in many ways. As an undergraduate and graduate student at The University of Texas at Arlington, he was steadfast in his studies and earned two degrees in accounting that paved the way for his success as the chief financial officer at Spring Creek Barbeque.
As an alumnus, he faithfully attends sporting events, eager to watch how each generation of Mavericks develops into outstanding student-athletes.
As a donor, he has committed through his will a portion of his assets to the University to support the future of his alma mater.
As a soon-to-be married man, he is beginning the next chapter of his life with someone who shares his passions and wants to carry on a legacy that impacts everyone around them.
"My fiancé and I are drawn to similar interests," Lozier says. "From biking and outdoor activities to making sure we influence our community in the most positive way possible, we make a great team. I am a lucky man to have met a woman whose compassion is contagious."
Lozier graduated from UTA in 1996 with a master's of accounting degree and started working for Spring Creek Barbeque. With the exception of a few months in public accounting, he has stayed with the family-owned restaurant for his entire career and frequently comes back to UTA to pass on the wisdom he has gained from his professional experiences.
"I was actively involved in Beta Alpha Psi as a student, and over the last several years, I still come back to attend chapter meetings and offer guidance to the student members," adds Lozier. "I would definitely recommend to all alumni that they stay connected to UTA either by volunteering their time or just by attending an athletic event. The University has grown tremendously since I attended, and it will only keep growing with the support of the community."
He credits much of his personal and professional success to his penchant for looking to the future.
"At work, I spend time regularly on long-term planning so that Spring Creek will be around for another 30 years and longer. Personally, I want the University to continue its tradition of excellence well into the future, and I think a deferred gift will give them the resources to do that."
A course he took served as the impetus for putting UTA in his will.
"One of my financial classes years ago taught me the importance of having a will so that you can dictate how your assets are handled rather than a court that doesn't know you," he says. "When preparing my will, I knew that I wanted to make donations to those organizations that gave me the foundation for my success, and UTA was at the top of the list. Plus, a deferred gift is a great way to start your personal philanthropy without sacrificing your current financial status."
Always looking to the future, Lozier has started today to direct how his legacy is shaped tomorrow. Judging by his premarital bliss, he stands ready to charge into the happily-ever-after of his future.