In Their Own Words: The Tom and Linda Blackwell Story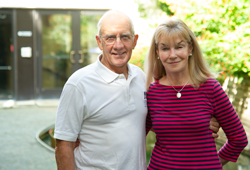 Tom ('72) and Linda ('77) Blackwell have a deep and meaningful relationship with The University of Texas at Arlington. As alumni from the 1970s, each share a series of special memories with their alma mater and want to advance the University's mission for the benefit of future generations of Mavericks.
We sat down with them to record some of their favorite memories.
Tell us about yourselves. What makes UTA special to you?
(Tom) Linda and I are both graduates from UTA. We owe a lot to the University. Before we were married, UTA was mainly good times and good friends. Education was secondary to us at that point in our lives. I think we invented the phrase 'secondary education'. But after marriage, we buckled down and even made the Dean's list (well one of us did).
(Linda) My favorite memories are those of the my professors-such as Dr. Hermann who taught me to appreciate the beauty of the night sky, Dr. Paulus who fascinated me with his prison crowding study, and Dr. Bernstein who captured my attention with his abnormal psychology class. I would go to the cafeteria and drink coffee in the corner and study sometimes for two hours before classes. Participating as a member of the alumni organization and also Friends of the Library allowed me to reestablish ties with friends I knew back in the day.
What made the two of you to stay involved with UTA as alumni and eventually, as donors?
(Tom) A Kappa Sigma fraternity brother, Thomas (Buddy) McMahon, was standing in the starting line of the Golden Gate marathon back in the late 80s. (Buddy is now gone too soon). We visited about old times, the pace we were running, and he later made the comment that he was donating to UTA to fund a ($200,000) chair. In the 80s that was a seemingly insurmountable figure. Sounded interesting to me, but I didn't even know what funding a chair meant.
About that point, Linda & I became more involved in UTA and helped organize a fund raising bike rally through the Alumni Association. The Association encouraged endowed scholarship funds for students. Linda and I established the Simmons-Blackwell scholarship shortly after this time. The fund has grown (with our donations & company match) to eclipse all our previous thoughts about Buddy 'funding a chair'.
We plan to keep growing the tax-deductible endowment each year. Our IRAs will continue our mission of leaving a scholarship legacy for future generations and accomplish our secondary goal of tax deductibility.
What do you see for the future of UTA?
(Linda) We hope that UTA will strive to maintain its historical buildings on campus, grow the university with thoughtful planning, and relish the Ivy League look in the center of campus. Also strengthening Alumni Relations would be a great benefit-and a networking opportunity for graduates. Our hope is that employers will continue to realize the rigor of its academics. Once I heard a potential recruiter say "UTA is fairly easy to 'get into', but difficult to 'graduate from'." Standards and expectations should remain high.
If, by leaving a portion of our estate to UTA, we leave the world a little better than before we were here, we have satisfied our goal.
Through their estate plans, the Simmons have established a legacy at UTA that will ensure student success for years to come and that will keep UTA an institution that places students at the heart of its mission.