Finishing Strong - Larry Kemp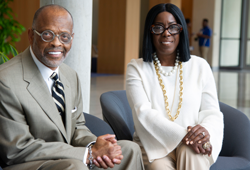 Larry Kemp ('80) was given the opportunity to play for The University of Texas at Arlington men's basketball team, and by his own admission, it didn't pan out as he hoped.
"Since I scored less than 50 points during my entire basketball career," Kemp says, "I quickly realized I wouldn't be joining any professional basketball leagues, and I thought it wise to leave my mark in other ways."
Husband to Reggi Sturns-Kemp and father to Peyton and Patrick, Kemp is now the chief executive officer and president of Kemp & Sons General Services. The skills he learned off the court have made him a successful businessman and community leader.
"The UTA College of Business academically prepared me for entrepreneurship and played a pivotal role in my life and business. None of this would have been possible without UTA, and some of my dreams are a reality because of the basketball scholarship I received and the relationships I made while a student."
He describes the chance to receive a free education from UTA as the opportunity of a lifetime, but it was the experiences he took advantage of while on campus that created in him a sense of community, determination, and leadership. As an active member of the Zeta Chi Chapter of the Alpha Phi Alpha fraternity and the Maverick Club Ambassador Committee, Kemp began to understand the meaning of success.
"I realized true success is adding value to one's community, not in dollars and cents."
Kemp has translated that philosophy into meaningful participation in UTA's alumni activities. He had a leadership role on the UTA Alumni Board, was involved through the College of Business Advisory Council, and participated in Mavericks 20/20. Maverick pride is evident in everything Kemp does, even in the deferred gift he made through his life insurance policy.
"I want to give other students the opportunity to chase and pursue their dreams like I was given," he says. "It's important that others get the opportunity of a lifetime. I hope the future scholarship recipients never take for granted the chance to earn an education and that they use it to conquer all that comes their way."
Because his basketball career fell short of expectations and because his academic career helped launch his successful business, Kemp likes to live by a simple motto.
"It's not where one starts, but where you finish that creates your legacy."
For Kemp and his family, a planned gift to create a scholarship that opens the door for others to find their path in life and ultimately finish strong is the greatest legacy they can leave.