Living a Purpose - Jasmine Stafford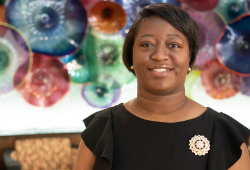 There are times in life when you discover something you didn't realize you were looking for, and often that discovery becomes a large part of your identity. Jasmine Stafford ('06, '11) found both - something unexpected and essential - at The University of Texas at Arlington.
Stafford didn't think twice about enrolling at UTA. "I grew up in Arlington, so UTA was always a part of my life," she says, but it wasn't until she experienced firsthand the enthusiasm of her learning environment that she really felt like the University was a special place.
"The faculty at UTA is exceptional," Stafford claims. "Dr. Joseph Ignagni taught political science with such indescribable passion that it helped me see I could make a difference. I want my legacy at UTA to be remembered as a student who found her purpose at UTA. Whether it was working at The White House or the U.S Senate, my purpose was always to help others and to shift the culture of minority giving."
Stafford has given an annual gift consistently since 2017 to help support scholarships at UTA. In addition, she recently pledged an endowed scholarship through a deferred gift. The Jasmine Calbert Endowed Scholarship will award annual academic scholarships to undergraduate or graduate students pursuing a degree in political science.
Her giving is also a result of a tragic accident in 2010 that left her evaluating her life and impact. A near-death experience, the accident strengthened her faith and re-committed her to giving back in a way that helps others.
"My goal is to change a generation," she describes her legacy-planning thought process. "The gift of education has the potential to change the trajectory of a family."
Establishing her legacy through this type of charitable giving, Stafford says it was both easy and fulfilling to make an impact on the future generation of Mavericks. Even more so, she hopes her gift helps inspire tomorrow's industry leaders.
"I want the impact of my gift to provide an opportunity for students to complete their education at UTA. Many students are not able to complete their education due to finances. My gift will help our future lawyers and professors achieve their educational goal."
Still early in her career, she has a very purpose-driven plan for supporting students at UTA and sees her gift as something larger than a philanthropic donation. It creates hope based in gratitude.
"My goal is to give back to a university that gave me so much," she says. "As a black woman, I believe that representation matters. I hope that I can inspire more donors."
Leaving a planned gift to continue the success of all students is an ideal way to have a long-term impact at UTA. It's also the perfect way to live out your purpose and help someone else discover theirs.