Shaping Brighter Futures - Mary Ann and Bob Van Siclen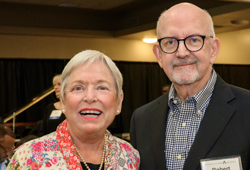 It didn't take long for Mary Ann and Bob Van Siclen to recognize The University of Texas at Arlington's capacity to transform lives through education. After arriving in Arlington from California in 1978, their new neighbors were then-UTA President Wendell Nedderman and his wife, Betty.
"They immediately exposed us to UT Arlington and later became lifetime friends," Mary Ann says. "We quickly embraced their enthusiasm for the University that would later have such a significant impact on our family."
That impact includes four UTA degrees - an MBA for Mary Ann and engineering degrees for their two daughters and for one son-in-law. In addition to earning diplomas, the Van Siclen family has continued to support the University through service to the Alumni Association and the establishment of an endowed scholarship.
One of Mary Ann's fondest memories is throwing out the ceremonial first pitch at a Texas Rangers game as president of the Alumni Association in 1997. She's quick to point out that the Rangers defeated the New York Yankees, 12-10, that night.
It was Mary Ann's involvement with the Alumni Association that inspired Bob and her to establish the Van Siclen-Davis Family Endowed Scholarship in honor of their parents, George and Marian Davis and Charles and Theodora Van Siclen. The scholarship provides support to high-achieving juniors and seniors pursuing undergraduate degrees in the College of Nursing and Health Innovation, College of Engineering, and College of Business.
Through the years, the couple has enjoyed meeting the recipients and hearing how the scholarship has made a difference in their lives. Among the most memorable students they've encountered are one who overcame physical disabilities to earn her degree and another who persevered despite being one of five siblings raised by a single mother.
"These kinds of experiences powerfully reinforce our already strong belief that higher education is the single most important factor for positive change to a person's life," Bob says. "As the cost of higher education rises, it's more and more important for donors to provide financial assistance so students can fulfill their dreams of earning a college degree and succeeding in their chosen professions."
The Van Siclens have seen firsthand how much students value these scholarships, and it has sparked the couple to increase their endowment each year. They recently made a deferred gift to UTA in their wills and designated it to support the Van Siclen-Davis Family Endowed Scholarship.
"During our retirement, we've been fortunate to travel widely and have met UTA graduates making a positive change throughout the world," Mary Ann says. "Knowing that our scholarship will continue to fuel student excellence in perpetuity is enormously rewarding."
Like Mary Ann and Bob Van Siclen, you can create your own legacy at UTA and help shape future generations of leaders. To explore legacy giving options, please contact Kurt Bartley CAP®, Senior Director for Gift and Estate Planning, at (817) 272-9387 or kurt.bartley@uta.edu.