Honoring a life's work while living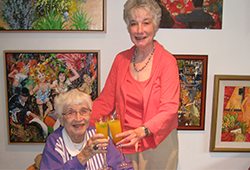 Carolyn Tinker's connection to the University of Texas at Arlington goes back a long time—before she was even born.
Her father, Tom Tinker, was hired in 1940 as a member of the coaching staff at North Texas Agricultural College (NTAC), the school that would eventually become UTA. Her mother Luna Ruth joined him in Arlington after they married in 1941. Though they spent three years in San Diego during his Navy service in WWII, they returned to the campus in 1945 with a newborn Carolyn now in tow.
Years passed and the family's connection to the university only deepened. Carolyn received both her undergraduate and master's degrees from her father's long-time employer, now named Arlington State College. She came back in 1975 to receive her master's degree, the school now in its modern form as UTA.
Her father spent his career at the school, serving primarily as head basketball coach, though he held other positions including athletic director and golf coach. His passion and dedication were honored on many occasions.
"He was always a great supporter of UTA teams," Tinker said. "Over the years he had various honors given to him, including being named to the sports hall of honor."
After her father's death in 1995 and yet more commendation, Tinker's mother mused that, though he deserved all of the recognition that he received, piano teachers like herself rarely got the same attention.

"Well, I said, 'Let's fix that!' Let's you and I create something that honors all you've done and let's do it while you're alive so you can enjoy the fun of seeing how it pays off. And that's how her scholarship got started," Carolyn said. Inspired by her mother's idea, she got to work setting up the Luna Ruth Tinker Keyboard Scholarship.
For the next several years, the keyboard faculty included Luna Ruth in scholarship auditions and decision making. Carolyn says seeing her scholarship in action brought her mother great joy. "She loved going to recipients' spring concerts and getting to stand to be applauded," she said.
And because many of her friends, colleagues, and church family came to think of contributing to the scholarship as a great gift idea, she was able to announce on her mother's 90th birthday that her mother's scholarship had been endowed.

"I've told that story many times to inspire more individuals with charitable leanings to honor important people in their lives while those folks are alive and can share in the joy and the gratitude of others," Tinker explained.
Like Carolyn Tinker, you can create a legacy at UTA and help shape future generations of leaders. To explore legacy giving options, please contact Kurt Bartley CAP®, Senior Director for Gift and Estate Planning, at (817) 272-9387 or kurt.bartley@uta.edu.