Social Workers' Gifts Cite Knowing and Caring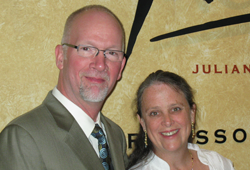 When Jonathan Beard and Grace Nordhoff reflect on their vocation of social work and their core values, they speak in terms of Knowing and Caring (the title of a work by Roberta Wells Imre) and "standing up for others" (watchwords of the National Association of Social Workers).

Grace started her journey while writing a series of articles for Southern Exposure, documenting the horrific conditions of state psychiatric hospitals in the South. This led her to earn a master of social work degree at the School of Social Work; University of North Carolina, Chapel Hill; and work in community mental health for several years.

Jonathan graduated with an MSSW from the UT Arlington School of Social Work in 1989. His father was a master's prepared social worker serving adults with serious mental illness.

"It was a family tradition to volunteer where my dad worked during the holidays," Jonathan says.

After college, he began his career in community mental health, moved to Dallas and worked at the Dallas Mental Health Mental Retardation Center with UT Arlington alumnus Marvin Williams. Marvin encouraged Jonathan and provided flexible work schedules that allowed him to attend classes. Remembering his time at UT Arlington, Jonathan also recalls Lila Hagins, the former dean of admissions, who admitted him on a probationary basis, from which he went on to achieve a 3.75 GPA in his first courses.

"I will forever remember her kindness and willingness to give an aspiring professional social worker a chance," Jonathan says.

He also treasured his relationship with Peter Gaupp, his graduate advisor. Gaupp advocated for Jonathan to continue to work full time while completing the last hours of the MSSW degree. "This meant so much to me," Jonathan says. "It would have been easy and convenient for Dr. Gaupp and the School of Social Work to simply go by the book, and I would have likely never completed the degree requirements."

Today, Jonathan divides his time between project management at the Washington Institute for Mental Health Research and Training and his independent contract business, Progressive Strategies. In recognition of Hagins and Gaupp, Grace and Jonathan give regularly to the Lila B. Hagins Endowed Scholarship and the Peter G. Gaupp Endowed Scholarship and have included those funds and the School of Social Work in their estate plans.

"As an alumnus who has been successful utilizing what I learned at the UT Arlington School of Social Work, it pleases me to support the school in helping to prepare the next generation of community and agency leaders," Jonathan says. "These are challenging times that require well-prepared practitioners. Who will rise to that challenge? Professional social workers are part of the answer, and the UT Arlington School of Social Work is a big part of that answer."