Never Forgetting His Passion for Education Parents Fulfill Late Son's Wish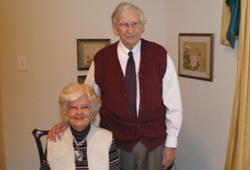 Dan and Gloria McQueen seem to know The University of Texas at Arlington inside and out, yet they are not alumni, nor did they grow up in Arlington.

They know all about UT Arlington through the experiences of their late son, Danny, who graduated in 1990 with a master of arts degree in history.

"The best years of his short life were spent at UT Arlington," Dan says. "Danny had a love of learning that even outshone his struggle with diabetes," Gloria says. "He left Parkland Hospital seriously ill one time just to make sure he registered for the next semester at UT Arlington."

Leaving a Legacy In His Name

Danny's goal was to teach after graduation but passed away soon after getting his degree. His parents recall faculty—Dr. Joyce Goldberg, Dr. William Marvin Dulaney and Dr. Dennis Reinhartz—who were tremendously helpful to Danny. A special reunion was held early in 2011 when Drs. Dennis and Judy Reinhartz returned to Arlington to visit the McQueens. They exchanged memories of Danny as both a student and a son.

However, more than simply remembering Danny, the McQueens have set up a special estate gift through their wills. Their estate will be given to UT Arlington to establish the Danny McQueen Memorial Endowed Professorship and the Danny McQueen Memorial Endowed Scholarship in the history department of the College of Liberal Arts.

"We want to make sure many more students have the same great experience of learning and friendship that Danny did," Dan says. "We couldn't imagine a better way to keep Danny's memory and spirit alive."