Marvin Dulaney Planned Giving Story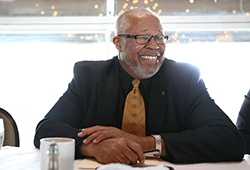 A Lion's History
Nigerian author Chinua Achebe often cited an important African proverb when explaining the motive for many of his novels - "Until the lions have their own historians, the history of the hunt will always glorify the hunter."
For Marvin Dulaney, a retired UTA African American history professor, a similar logic helped him decide to establish a scholarship through a planned gift that would benefit not just the telling of African American history but also the shaping of our nation's understanding of its rich and diverse background.
"Overall," Dulaney says, "I have found that, after forty years in the field, African American history is still not taught comprehensively at all levels in the American educational system. More specifically, I wanted to leave some funding that will encourage students to pursue minors or degrees in the field so that there will be a 'pipeline' of young scholars who can teach African American history and the African-American experience."
When students are encouraged to pursue important fields of study and are provided financial resources to achieve academically, we all win.
"I still believe that students who get a good education will make a difference in their own lives as well as in our nation's communities at large," Dulaney continues. "I hope that the Dulaney Family Scholarship will promote student development and support students who pursue the field in a manner that has impact not only at UTA, but also in the DFW community."
Dulaney created the scholarship through a unique opportunity that allowed him to contribute from a retirement account without changing his current income. He made a deferred gift through his own estate by designating UTA's Department of History as a beneficiary of his will. Because of this, it is a scholarship that will last in perpetuity and have a meaningful and lasting impact.
"If one really wants to make a difference and support UTA students in whatever field they choose, a deferred gift is an excellent idea and it will have important ramifications even after they have passed on," Dulaney adds.
Through his thoughtful gift, Dulaney has ensured that the lions will have their own historians and that the Dulaney Family Scholarship will forever advocate for talented students looking to improve our communities. He has created a lion's history and extended his influence for generations to come.