Planning for Success - Keith and Jo Krop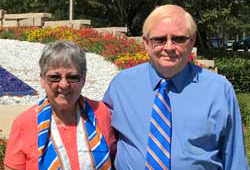 Hard work and success are often amplified by proper planning. No two people know this better than Keith and Jo Krop. Keith is a 1974 graduate with a BBA (Finance) degree. Jo is an avid Maverick fan.
Keith is a Certified Financial Planner and has been maximizing his penchant for planning during his entire career. As the owner of a mortgage brokerage shop, he helps his clients make better decisions based on long-term strategies and knows that retirement, much like a business, can be more enjoyable and stress free if you plan ahead.
That's why the Krops set up a scholarship for UTA business students studying finance as part of their estate plan, intended to encourage students and the clients they will influence to plan wisely.
"When I attended UTA," Keith says, "I worked full time while pursuing my degree, and that helped me develop the drive to succeed. I hope this scholarship will encourage students to work hard and overcome obstacles while reaching for their goals."
Jo retired in 2009 and begins taking her IRA required minimum distributions in 2017 making their plans a reality. These funds will go toward the Maverick Club. Their successful planning put them in a position to live comfortably and for Jo to retire early and enjoy retirement fully.
In addition to providing a scholarship for business students in their estate plan, Keith and Jo have become avid Maverick Club members and fans, traveling with many of the teams to watch UTA student-athletes compete and build the reputation of their favorite university.
"We so enjoy watching our talented and dedicated athletes," says Keith. "Using Jo's IRA distribution to support student-athletes is our way of showing our appreciation. Practicing, playing games, traveling, and keeping up with their academic load is akin to having a full-time job. We want to encourage those talented student-athletes we are blessed to watch on a regular basis."
Keith and Jo are making the most of their estate plans and capitalizing on the tax benefits of using their retirement assets for philanthropic purposes. Giving Jo's required minimum distribution to support UTA students helps the Krops continue their lifestyle according to their plans.
"If you don't need the income to maintain your lifestyle," says Keith, "giving a gift directly from your IRA to UTA is the best way to save on taxes and get the satisfaction of helping deserving students and the University we love."
If success is defined by the execution of carefully laid plans, the Krops have exceeded their own expectations and created their legacy at UTA. Go Mavs.