The Whole Story - Sylvia and John Rawlings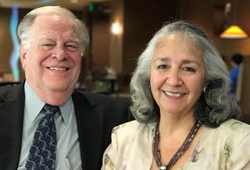 Some might argue that education is simply a means to an end - a process of developing certain skills to obtain a career.
In philanthropy, some might also think there is only one way to give - provide a major cash gift that has a significant financial impact.
Sylvia and John Rawlings know both of those assumptions aren't necessarily true, and through their connections to UTA, they created scholarship opportunities for students to succeed and that worked against conventional thinking.
After 20 years with the University, many of them as the director of the Rural Health Outreach Program, and as a current member of the UTA Maverick Club Advisory Committee, Sylvia wanted a way to say 'thank you' to a University that gave so much to her. Both Sylvia and John have lived a pattern of making gifts over a long period of time that led them to include UTA as a beneficiary of a life insurance policy.
The Rawlings established the Sylvia and John Rawlings Endowment to support both UTA athletics and the nursing PhD program in the College of Nursing and Health Innovations, the largest producer of degreed nurses in the state of Texas. For the Rawlings, combining support for these two programs is a nod to the idea that students pursuing a college degree should get a well-rounded experience and become a whole person as a result.
"Nursing and Athletics utilize a holistic approach to provide the student and student athlete with the support necessary to fully develop their skills and knowledge," said the Rawlings. "The professors and coaches' desire is for students to achieve success beyond UTA in all aspects of their lives, create a culture of life-long learning, and giving back. To us, this commitment to the student, as a person, exemplifies what teaching should be."
For both, giving back to UTA in a way that supports a holistic approach to education ensures academic research provides avenues to create a better community for everyone. Specifically with the endowment helping nursing doctoral candidates fund their first substantial research project, the Rawlings wanted to support that desire to use advanced research as a way to improve our quality of life.
"The drive to learn the 'why' is the key. Those who engage in research are solution-based and desire to affect a positive change or reduce harm, resulting in enhanced patient care and improved care systems, utilizing innovative thinking and ideas," said Sylvia.
The Rawlings knew that to make a large impact, you don't have to rely on a single method of giving. Having made gifts to UTA for many years they wanted to name UTA a 100% beneficiary of a life insurance policy, a deferred gift through their estate. Doing so created both a model for their children and a legacy for their future. "We hope that our children remember us as parents who believed in service and philanthropy. [A deferred estate gift] provides an opportunity to financially support future UTA students for generations to come. Utilizing a deferred gift provides an excellent mechanism to enable you to give at a higher gift level than what a current opportunity can allow."
Putting all of the pieces together, the Rawlings created a timeless gift that promotes whole people. Their support builds talented students into productive and multifaceted citizens.