Building Something Big - Michael and Cyndy Fairchild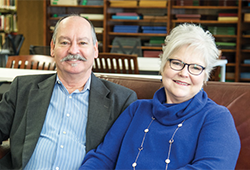 When The University of Texas at Arlington created a new construction management degree in 2017, it was another example of how the University responds to the growing needs of the Dallas Fort Worth Metroplex.
To Michael Fairchild, it was another building block in his evolution as a leader in the construction management industry and one more development in his affinity for his alma mater.
To Cyndy Fairchild, Michael's wife, it was an opportunity to support her University and the many talented students who value education as a means to improve their own lives.
The Fairchilds started their relationship in 1971 at The University of Texas at Arlington, where they were both studying as undergraduates. Upon graduation, both led successful careers, Cyndy as a teacher in the Arlington Independent School District and Michael as an architect and construction administrator, before turning their attention to how they could help students improve their lives through a college degree. Once Michael returned to campus as a professor in the Civil Engineering Department and as the undergraduate advisor for the construction management program, they both started looking into how they could pay their success forward.
"Now that Michael is a full-time professor at UTA and recruiter for the program, we feel we have come full circle" Cyndy says. "Education is important to both of us and as we grew older, we wanted to do more for UTA."
Cyndy and Michael have each named UTA a beneficiary in their life insurance policies. The cumulative effect of their giving will result in a fellowship in architecture - The Michael W. Fairchild Graduate Fellowship for Architecture - and an unrestricted fund that will allow the University to adapt to the changing demands of higher education.
"I just wanted to give back to UTA since I owe what success I have attained to my college education," Michael says. "It is relatively inexpensive to leave a fair-sized gift to the University by paying into a life insurance policy and listing UTA as a beneficiary."
Together, the Fairchilds have created a lasting legacy on UTA's campus through a unique strategy. Their generosity will help advance the University's mission to provide the best possible educational experience for all students, paving the way for future generations of Mavericks to build something big.