Gideon's Story - Randy and Beth Gideon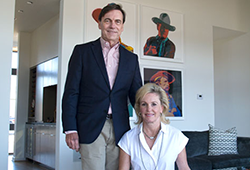 There are times in our lives when a memory can motivate us to protect the future.
Randy Gideon's time at UTA inspired him to ensure that future generations of Mavericks have the opportunity to improve themselves while making a difference in the Dallas-Fort Worth Metroplex.
"My feelings for giving back to UTA began during my college experience," he says. "Participating in collegiate sports and student organizations showed me it's possible to have a positive impact on our community as a student and as a future business leader."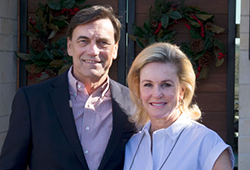 Randy studied architecture and played soccer at UTA. He credits the University with helping him become who he is today, professionally and personally, and for continuing to provide the resources all students need to become community leaders. He received his BS in Architecture in 1975 and became a founding principal of Gideon Toal Architects in 1993. He and his wife, Beth, have been happily married 25 years and have raised four wonderful kids together. As a UTA Distinguished Alumni Award winner in 2000, Randy has played important roles on several University advisory boards to help advance UTA's mission. He retired in 2010.
"My architectural education at UTA set the foundation for my professional career and many other aspects of my life. I see the same kind of impact in the lives of students in the architectural program at UTA," he explains. "Reasoning and problem-solving skills acquired in architecture school can be applied to leadership positions across the community."
And it is this impact he remembers UTA having on his life that he wants to preserve through a deferred gift, naming the University a beneficiary of his estate, which will help more students achieve success. More importantly, though, a deferred (a.k.a. legacy) gift allows him to provide for his family now and recognize the importance of life-shaping institutions later.
"Personal planning could be driven by both my education and my life experiences," Randy adds. "Since we have had children, we have realized that we want to leave something for our family and maintain a goal to make gifts to the other institutions that have played an important role in our lives. The option of a deferred gift allows us to plan for our giving after we have met our personal goals during our lifetime."
Looking back at his time at UTA, Randy has decided to create his legacy at a place he loves and to make UTA available to those in the future who want to pursue a college degree. This chapter of his story has been written. Now, he wants others to start writing theirs.